As the deficit of IT professionals in the Nordics increases exponentially year by year, doing your search in a larger pool of candidates equals finding the right talent faster.
It does require an initial investment which is the reason where the misconception of being expensive comes from but now it's time to break that myth down and take a close look at how it would look.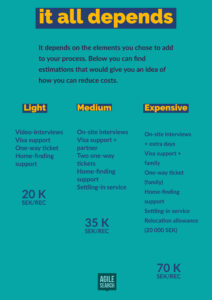 Was it less than you expected? Does prolonging your process for several months is worth for your teams operating on a shortage? How does that affect your team's productivity?
Is time for you to recruit faster, is time for you to start recruiting beyond the borders. If you want to know how Agile search can help you with International Recruitment reach out in the contact section.