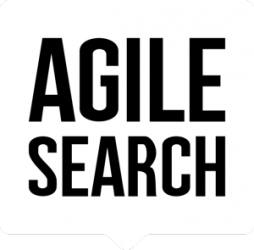 International Tech Recruitment
Trends
Today we are faced with an extremely dynamic labor market, characterised by technological innovation, global mobility, scarcity of talent, and huge variations in growth across regions. To meet these challenges, we need a clear view of global and local labor markets, the priorities over the next three to five years, and the best way to tailor efforts to improve.
Global Labour Market
The world's leading human resource consulting company, Hays, revealed three main trends impacting skilled labor markets worldwide during 2017 to 2018. These tendencies were based on their research of professional employment markets across 33 major economies.
1. Innovative working patterns are invigorating labor markets
New working patterns such as home-working and telecommuting, together with different contract models are invigorating labor markets. The innovative working model brings more benefits to both employers and employees, such as a better work-life balance and flexibility to manage talent pipelines for business.
Another noteworthy implication is that there are greater opportunities than ever before for migrants, female professionals and elder workers. For example, working remotely makes it easier for an international migrant to relieve the pressure of finding a place to live in a new country.
2. An increasing number of migrants who are well educated
The data from UNFPA shows that "in 2015, 244 million people, or 3.3% of the world's population, lived outside their country of origin". The majority, 92%, of these migrants cross borders in search of better economic and social opportunities. At the same time, migrants are increasingly well educated. In the EU countries, 29% of all migrants were university educated as of 2016, up from 
26% five years earlier.
Generally, migration is a trend that will continue and the percentage of skilled migration is at an all-time high. The UN forecasts that high-income countries will receive an additional 14 million migrants by 2020. Since the labor shortage is becoming a world-wide crisis and the war for talent never ends, it would be wise for employers and HR professionals to prepare in advance by cultivating their cross-border talent pool with highly mobile internationals.
3. Technology is disrupting the work landscape
Technological innovation is having profound effects on both the supply side and demand side of the global labor market. In the foreseeable future, some jobs will inevitably be replaced. Some jobs will move up or down the skill-spectrum to fulfill the needs. Still more and more new jobs will exist with the digitalization trends that include big data, artificial intelligence, the Internet of things and on-line platforms.
Read More: Hays Global Skills Index 2017
The Workforce Crisis
As a key factor in economic growth, talent become the most valuable resource and capital in every organization, group or company. In 2014, Boston Consulting Group (BCG), researched and analyzed the supply-and-demand dynamics of the workforce in 25 of the world's major economies.
The chart below summarizes the findings for 15 countries, which are the world's largest economies, representing over 70% of world GDP. Obviously, most of the countries are likely to experience predictable labor shortfalls in the next decade.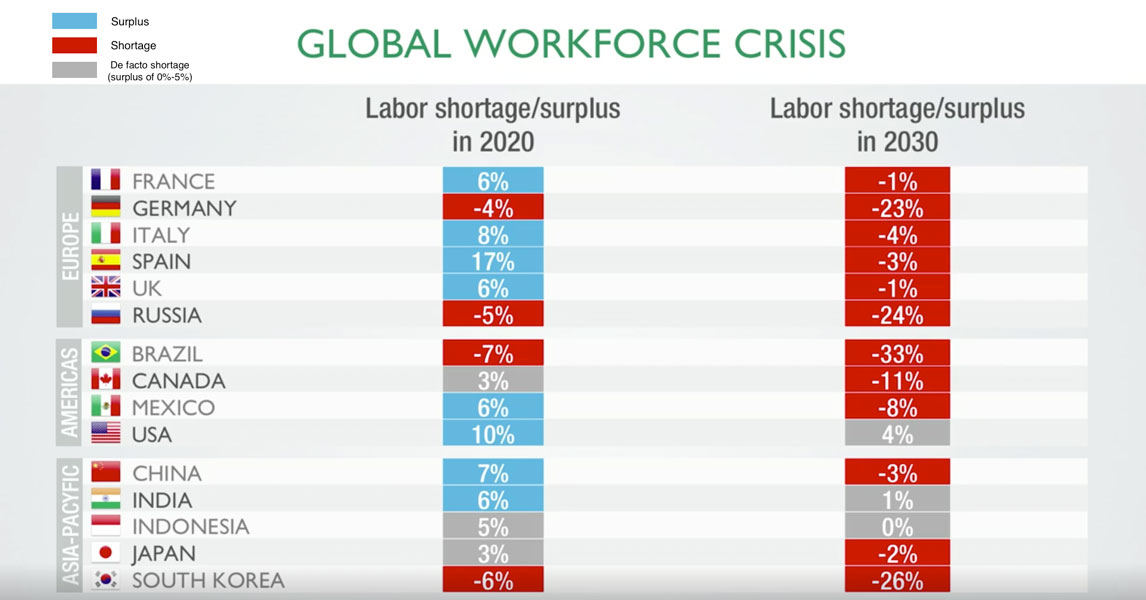 Labor Shortage + Skill Mismatch + Cultural Challenge
According to Rainer Strack, the Senior Partner and Managing Director at BCG, this impending global workforce crisis consists of an overall labor shortage, a huge skill mismatch and a big cultural challenge.
There is a common question that people often ask, will technology mitigate this labor shortage? The results from BCG's research show that technological progress has disproportionately driven the demand for highly-skilled workers relative to low- and middle-skilled workers. However, in current labor markets, there were higher shortfalls for high-skilled people while a partial surplus for low-skilled workers. This skill mismatch between supply and demand makes the global labor crisis even worse.
As mentioned above, the growing number of well-educated migrants is one of the main trends in today's labor markets. Therefore, increasing talent mobility could be one key measure to close the gap, at least in the next decade. BCG predicted that, by 2030, most of the 25 economies will face similar labor shortfalls. The core of the future market competition would be scrambling for the talent. Before global talent become even more scarce, it is time for us to open up to international candidates.
"So people, high-skilled people, talent will be the big thing in the next decade. If they are the scarce resource, we have to understand them much better."- Rainer Strack
In every country, organization and industry, human resources are the key capital that will drive the success in this workforce crisis. However, professionals are not machines. They, like all of us, are looking for recognition and want to be appreciated for their work. For companies and employers, it is important to understand such personal needs and overcome the cultural challenges that may happen in international recruitment.
Here we would like to give you some advice that could be considered in your HR strategies:
Cultivate the cross-border talent pool
Value equality and diversity in the workplace
Break down cultural barriers for internationals
Provide relocation packages for international professionals
Take advantage of technology for virtual collaboration
Read More: The Global Workforce Crisis, BCG
Nordics Tech Scene in focus
The Tech Scenes and Labor Markets in Stockholm and Helsinki
When thinking about technologies or startups, Silicon Valley may be the first place that comes to your mind. Whereas on the other side of the world, the Nordic tech scene has continued to grow stronger.
Looking back from 2013 to 2017, Finland and Sweden have taken first and second place in European venture capital (VC) investments. The new tech hubs like Stockholm and Helsinki have emerged as the international centers for technologies and innovations.
The Tech Scenes
Stockholm
The Unicorn Factory
During the past several years, Stockholm has produced the most unicorns, i.e. billion-dollar startups, per capita in the world after Silicon Valley. The successful startups such as Spotify, Skype, King and Klarna, are leading Stockholm to become the Unicorn Factory from the North.
According to the data from The Nordic Web & Invest Stockholm in 2016, over $1,4 billion was invested in tech companies located in Stockholm, which is a $500 million increase compared to 2015, and a 7X increase in just 4 years. Meanwhile, there was a total of $1,75 billion in exit value among Stockholm-based tech companies within one year.
The fast-growing tech industries and vibrant atmosphere enable Stockholm to continuously spread its dominant influence worldwide and grow up to be a paradise for IT-professionals.
Read More: The Tech Scene in Stockholm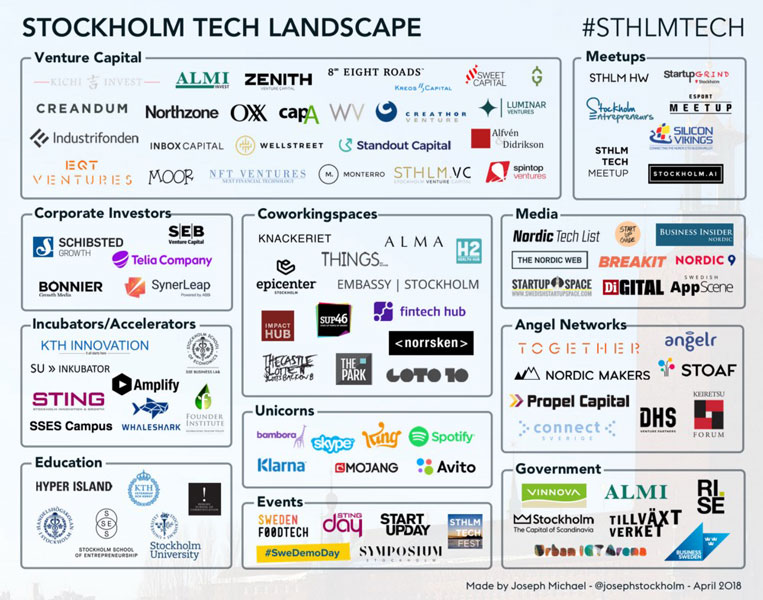 Helsinki
Leading Startup Ecosystem
For several generations, the greater Helsinki region has been at the forefront of digital technology. In addition to the ever strong gaming industry, Helsinki also boasts growing strength in AI and Healthtech.
"Helsinki has one of the leading startup ecosystems in the fields of in the information and communications technology, gaming and cleantech. Recently we have witnessed rising stars also in health."
Marja-Liisa Niinikoski (CEO at Helsinki Business Hub )
The recent Global Startup Ecosystem report by Start Genome ranks Helsinki as the number one ecosystem in terms of local connectedness. There is no doubt that this local connectedness has been a big player in bringing the Helsinki tech scene to the global stage.
The high level of local relationships amongst founders, investors and experts is down to the supportive startup ecosystems in the greater Helsinki Region. Some with mentioning would be Helsinki Business Hub, NewCo Helsinki and Microsoft Flux.
It is impossible to talk about the Helsinki tech scene without mentioning SLUSH. This world leading tech event was first held in 2008 with 300 people attending and has grown to an event that attracts 20,000 people from across the globe. Every year the startup and tech community gathers in Helsinki to facilitate founder and investor meetings and bring some of the biggest names in tech to tell their stories on stage.
The Labor Markets
Stockholm
Growing Needs of Highly Skilled Professionals
One of the impressive facts behind the fast-growing tech scenes in Stockholm is the high proportion of the employment in the innovative and technology sector. The statistics in 2011 showed that in Stockholm, 18% of the workforce worked in high-tech related jobs and Stockholm had the highest share of high-tech employment among the other large labor markets within the EU-27.
Although every fifth Stockholmer works in the tech sector, there is still a huge need for highly skilled IT talent to fill the gap. In the latest report from Arbetsförmedlingen (Swedish Public Employment Service, 2018), IT specialists will continuously be in great demand in the market in the future 5 years.
According to Hays Global Skills Index Report, "There are challenges for employers looking to attract and retain talent in Sweden, as indicated by the country's highest score in the Hays Global Skills Index 2017."
Talent mismatch and wage pressure are the two main challenges, which make the current Swedish labor market tougher than ever.
Read More: Stockholm: A Tech Hub for Global talent
Helsinki
Every third person in Finland is working in tech
Like Sweden, Finland is facing a situation where the demand of IT professionals is growing fast and the existing workforce is not able to meet the demand. According to the Finnish Information Processing Association, TIVIA, Finland has an immediate need for 7,000 more software development professionals. By 2020, at the current rate, the deficit is expected to widen and reach 15,000.
At the same time, Finland is enjoying a lively startup scene and in 2017 growth companies and startups raised EUR 349 million. The Finnish startup ecosystem can be seen as one of the most active in the Nordics and Europe. There is a lot of growth potential for small and medium sized companies in Finland. The number of businesses within the range of EUR 10 million to 100 million in sales, is in a healthy stage.
According to Technology Industries of Finland, the technology industry employs almost 300 000 people in Finland, which is ca. 12% of total employment. This means that every 3rd person living in Finland is employed by the technology industry. The IT industry alone employs over 48 000 professionals.
The unemployment rate among IT professionals is decreasing constantly in Finland and according to TIVIA, higher education has a direct positive correlation to employment rates. Quality of Higher Education is one of the factors Finland is focusing on, trying to fight against the increasing demand for IT professionals.
International Recruitment
While the Nordics continue to grow their talent pool at home, tech companies and start-ups are always in dire need of top-tier talent. But nothing to fear! The talent is out there beyond the Baltic Sea.
We need to continue to raise the talent bar. As the snowball effect continues to bring more innovative products and services to the Nordic markets companies and governments are working together to make it possible to bring talented individuals from abroad.
Why International Recruitment?
5 Reasons Why Companies Recruit From Abroad
1. Decrease Cost Per Hire
2. Widen Talent Pools
3. Gain Cultural Insights
4. Build Employer Brands
5. Explore New Markets
5 Reasons Why IT Talent Move to the Nordics
1. The Tech Landscapes
2. Compensation and Benefit
3. Quality of Life
4. Work Environment
5. Education and Self-development
The Nordic markets are already attractive to IT Professionals and can retain the arriving talent.
Thanks to the momentum from Helsinki and Stockholm startups, such as Spotify and Rovio, the cities are known among some of the best engineers and designers. Realizing the advantages of the great benefits of living in these countries may take expats some time to realize. But after experiencing the system and interesting culture, the ease of life in the cities makes it difficult to leave.
The Global Talent Competitiveness Index (GTCI) ranks countries by their ability to make it possible to attract, grow, and retain talent. When ranking only world cities, Stockholm and Helsinki were ranked 2nd and 5th on the index, ahead of San Francisco (8th) and London (14th). Talent that arrive at these Scandinavian capitals tend to stay longer than other popular tech hubs.
Government Support
Developers are needed worldwide, therefore the competition for developers comes from all directions.
Companies lacking the tech talent needed to grow is one of the greatest barriers to growth. In concerns to Sweden, a recent report from the IT and Telecom Industries employers' association estimated there will be a shortage of 70,000 IT and telecom professionals throughout Sweden by 2022.
Governments are aware of the need and aim to make the process smooth for people transitioning from abroad. The H-1B visa program in the U.S. greatly helped the country with the technical skills shortage, which is still expected to be around 1 million by 2020. Migrationsverket and Maahanmuuttovirasto, similarly, are helping Swedish and Finnish companies and individuals with the visa process.
Cost
In the short term, the cost of hiring from abroad can appear to create an additional cost in a sourcing process. However, in the long-term, the biggest benefit of hiring internationally is that companies no longer are constrained by the shortage in their local or national talent pool, which could save a lot on the time and the cost associated with an organizations recruitment process. Also, organizations can look to hire purely on the basis of talent. The saved time and efforts of opening a search up to the world, or at least the E.U., can justify the upfront costs of hiring from abroad.
After opportunities for professional development, salary and benefits are the second most important part for developers to see in an offer. –Stack Overflow/Talent
Companies with a strong culture, naturally, take the approach of leaving salary out of job advertisements. The intention of this belief is that leaving out money acts as a filter. The candidates just looking for a job and not a company are believed to be more attracted to the financial benefits of an opportunity. While recruiting from abroad companies must keep in mind the top international talent need to know all the incentives of leaving their, already pretty comfortable, positions.
Cultural Insights
After expanding out of Stockholm and maybe the Nordics, where do companies go next? Think of hiring talent from abroad as bringing in cultural insight from the outside. Added cultural insight during fikas can spark ideas. Companies can find the international talent's hidden knowledge to expand to the new colleague's homelands, while enlightening the whole team. A diversified work environment can also build your international employer brand to attract more top talent, which a company might never find without a diverse talent team.
Sourcing and Searching
When you are looking to hire a new team member, there are different ways to source candidates. As shown in the figure below, social media and paid job boards are at the top, according to a survey by SocialTalent done in 2017 that was sent to 2000 people in 81 different countries.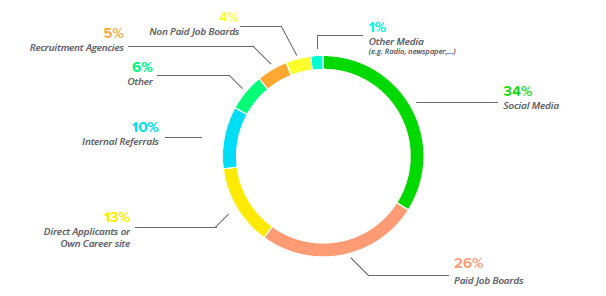 Job Boards
Job boards are still often used, and can also be used for hiring abroad. SocialTalent's report showed that 43 % of the recruiters in their survey used paid job boards in 2017. With a clear, short ad, with many relevant keywords, SocialTalent said that you can optimize the relevance of the ad. However, as Melissa Silver informs, different countries have different marketing laws, and it is important to know and comply with them. That can be related to privacy protections or information that needs to be mentioned, etcetera.
Social Media
Most recruiters use social media to find potential candidates. According to the study by SocialTalent, social media is the top choice to find candidates and LinkedIn is the most popular network. That means that it is used by most recruiters and you will not be unique there. Instead, it is good to complement it with other sources. Both Twitter and Facebook can be used as a search tool for finding candidates. SocialTalent's study showed that while Twitter was being less used by the average recruiter, it was still frequently used by super recruiters. Facebook, on the other hand, had become more popular in general.
LinkedIn
According to LinkedIn data, companies with a strong employer brand get a head start. LinkedIn uses their internal metric called Talent Brand Index (TBI) which indicates talent brand strength of every company in the network.
According to Alyssa Sittig, a strong TBI means:
● A 31% higher InMail acceptance rate,
● A 43% decrease in Cost per Hire,
● A 20% higher rate of hire (faster growth, also due to the ability to attract top talent),
● 2.5 x more applicants per job post on LinkedIn.
Different countries, different media
Different countries may have different social media where the developers are active and easy to reach. For example, Jesse Rosenberg said that in China, WeChat, Weibo and Qzone, among others are well used. Therefore, do some research on how to best find the talent from the countries that you are targeting.
Be Where Programmers Hang Out
Social Media
Social media can be a good way to find great candidates, but another way is to be where the developers hang out. Stack Overflow published their report, Global Developer Hiring Landscape, for 2018, which showed that 80.8 % of the respondents are coding outside of work, and 56.4 % contribute to open source. That makes sites, such as GitHub and Stack Overflow, where developers can share their knowledge and show their worth, valuable sources for recruiters. However, for these kind of sites, it is important as a recruiter to know that they are for programmers first and foremost and should not be used as a recruiting channel.
Meet-ups
Another place where programmers may hang out is at tech events. If the events are open for non-developers, that can be a good place for recruiters to find good talent. If you are in the country you want to hire from, this can be a great option, but also at home, because international talent can even be in your own country.
Do you want to find more tech events and nice meet-ups in the city?
Check out the blog post – From NYC to Stockholm.
How to Contact
While social media and sites like GitHub and Stack Overflow are good tools to find great candidates, only 4.3 % of the respondents to Stack Overflow's report, said they liked being contacted that way. The majority, 63.9 %, preferred to be contacted through their private email addresses.
Selection
When hiring from abroad, the part of selecting a candidate can be tricky. When you cannot meet the person and see their personality and how they fit into the team, you need to find other ways of trying to figure that out.
How To Interview
The best way to get to know people is to meet them, face to face, for interviews. If that is possible, go for it. However, when hiring from abroad it is not always possible. That is when video/conference calls come in handy. Developers are, needless to say, interested in technology. Therefore, it makes a good impression to use modern tools even for recruitment. If you find a good tool for video calls, you can have cost and time efficient face to face interviews even when you and your candidate are located in different parts of the world.
How To Screen
Just like when hiring someone local, assessing technical skills is hard during an interview. Candidates in the same, or surrounding, cities can come for a work trial, but that is not an option if the candidate is located in another country. Therefore, there are many different tests that be used to assess technical skills. It is good to choose one that resembles the work the candidate would do if hired. Some services let you create your own test, while others have them ready for you.
Not Only Skills
Not only technical skills can be assessed with a test. The market also has many personality tests, which can be good to see if the person will fit into the culture of the team.
You can read about our own experience in International Recruitment projects here. 
Practicalities
Faced with the emerging knowledge gap, the government and employers, especially the high-tech startups and companies, are endeavouring to create a diverse and equal atmosphere for every talent. More and more companies are joining in the international recruitment trend and opening up to candidates from all around the world.
The Financial Case
The cost-per-hire (CPH) metric has been used by companies of all sizes to measure the effectiveness of their HR functions. When calculating CPH, you need to add external and internal costs and divide the amount you get by the number of hires completed.
CPH was basically defined as "the costs associated with the sourcing, recruiting and staffing activities borne by an employer to fill an open position in an organisation." In order to optimize the CPH in your recruitment process, we should measure it separately from overall cases. In international tech recruitment, we have integrated relevant information and potential costs with this new CPH formula below.
Considering that 47% of small businesses have trouble finding qualified applicants, a lot of costs go into expanding the tech talent pool (Study by National Federation of Independent Businesses).
As discussed before, the biggest benefit of hiring internationally is to increase the quantity and improve the quality of your talent pool. The saved time and efforts of opening a search up to the world, can justify the upfront costs of moving someone from abroad in the long-term.
Visa and work Permit
The information below is collected from the web page for the Swedish Migration Agency (Migrationsverket).
● First of all, you need to be a certified employer before you can apply for a work permit. That can be done at Migrationsverket, and a relocation agency can help with that.
● In order to get a work permit you need to apply at Migrationsverket. That can be done on their web page.
● To get the work permit you, as an employer, need to arrange health insurance, life insurance, occupational injury insurance and occupational pension insurance for your employee before they start working.
● Terms of employment need to be on at least match collective agreements or what is customary within the industry.
● Salaries also need to at least match collective agreements or what is customary within the industry.
● The employment must be enough for the employees to support themselves.
● An offer of employment needs to be sent to a relevant trade union for them to have an opinion about the offer.
2 years
The work permit will be valid for 24 months and only for the employer and the professional specified in the decision.
If an employee wants to change the employer within those months, a new application for the work permit must be submitted by the new employer.
It can be simpler
If you do not have an HR department specialising in international recruitment, you can always consult our recruitment adviser about a talent acquisition strategy tailored to your needs. Why?
1
Professional
Agile Search has over 10 years of experience of sourcing local and international candidates.
We help you hire talented developers, CTOs, data scientists, and smart marketers ready for international growth opportunities.
2
Personalised
We help you with everything you may need from recruitment to employee retention.
We provide you with an integrated solution including an external support for relocation and immigration services in international recruitment.
3
Productive
We work in an Agile way and find the right person for your difficult-to-fill roles by utilizing our own networks to attract passive job seekers worldwide.
We help your company to grow with our recruitment and employer branding services.