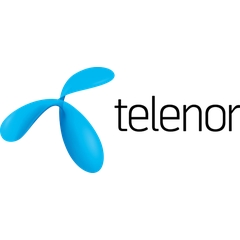 Agile Transformation Leader
Telenor
Telenor is one of the worlds biggest teleoperators with offices all over Europe and Asia with around 185 million users. We have 20 000 employees world-wide, 2000 of them in Sweden. Our mission is to connect you to what matters most, and by doing so, empowering societies. Being connected can change your life, and we're serious about helping our services make the widest possible impact.
As we know, times are changing – this is also the reality at Telenor. We are rapidly heading towards the digital future and looking for people with a natural, proactive drive and the will to make a difference.
Telenor Sweden is on an Agile journey inspired by different frameworks and approaches, such as the Spotify model and SAFe. The mission that needs to be started, is to facilitate Telenor's way to true agility by providing active support to the organization in this journey. This is done through a wide variety of activities such as training, coaching, driving planning and discovery processes at scale, and also tracking and communicating progress through key metrics, objectives & key results and success stories.
We develop guidelines for and support implementation of Agile way of working by providing tools for transparency and collaboration and by establishing guilds, chapters and forums for idea exchange.
The Role:
We are currently looking for a curious and passionate Agile Transformation Leader to join our Agile Center of Excellence (ACE) -team. You'll work closely with the IT Tribe Lead and PO Tribe Lead and you're primarily accountable for driving the continuous improvement related to our agile transformation. You bring intellectual curiosity and love of learning new skills and capabilities to influence continuous improvement of our ways of working.
You will identify and address system-level impediments to business impact, delivery, and team health. You will actively coach, mentor, and give feedback to individuals, teams, and leaders to support high output.
Why join us?
A balanced workforce is key to our success. To secure that, we're committed to fostering a working environment where our employees are supported and empowered in all areas of their work. We promise you a company eager to learn and rapidly adapt to a digital world where you will be welcomed into a skilled team of professional and knowledgeable colleagues.
We believe in making working life flexible – have a lunch workout without having to rush back, be able to pick up the kids from school, work from home when you need to? – No problem. We also offer a generous health and benefit package with e.g. wellness grant, health insurance, occupational pension and development programs to deepen your knowledge and broaden the competence.
Could this be for me?
This role calls for someone, who has been a key player in implementing and scaling agile practises in complex matrix organization. Excellent coaching, people-interaction and communications skills are the key of making a difference. You will be holding plenty of training sessions, presentations and facilitating discussions. As a curious agilist asking "Why?" comes naturally from you, as well as and finding hands-on solutions to concrete challenges. You are also used to challenge senior management in a humble way.
---
Skills & Requirements
Experience in Agile transformation
Strong leadership skills & experience with change leadership
A proven track record of leading a large corporate change transition
Excellent communication skills
Ability to easily adjust into new situations
---
Did this sound like your dream job? Don't hesitate to apply!
---
Great place to work
A generous health and benefit package
Development programs to deepen your knowledge
A great modern office in the Central of Stockholm
Still Interested?
Now that you've read this far and know more about the company why not hit apply if you're still interested.